Stage 2 Update – The Demolition of the PAC
There was substantial property works underway over the Christmas school holiday break, with Stage 1 works finally coming to a conclusion and the Stage 2 works getting underway. This has all been a massive project, especially working around these while trying to keep the school operating as "normal". The following are some photos of the major works…
1 Cashmere High School's old Performing Arts Centre (PAC or School Hall) just prior to demolition for the construction of the exciting new performing arts building – due to be completed by end of Term 1 2019.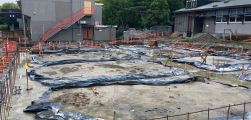 2 The foundations are down for the construction of a new Science Block with seven new labs – as an extension to our two-story A Block. This new Science Block should be ready for student use after Term 3 this year.
3 Prefab classrooms have been relocated to behind W and K Blocks, and will now be the new K6 and K7 classrooms and ESOL office. Two other prefab classrooms have been uplifted and relocated to the front field (now called M6 and M7 classrooms).
4 There have been a large number of underground pipes dug up and replaced around the school. This replacement of the old and damaged underground infrastructure will continue into Term 1.