2018 September
This year Cashmere High School music is embarking on our most ambitious Music Tour. Every two years the Cashmere High School Music Department embarks on a music tour, with every four years touring to an international destination. This year we are touring from September 22nd to October 12th spending one week in Boston and the rest of our time in New York. 50 students and 5 staff will be taking part in the tour.
While this is an amazing opportunity there is a significant financial cost which is out of the financial reach of some families. Cashmere wants to support our students to make the most of this once in a lifetime experience. We are looking for funds to support specific students who are struggling to raise all the funds.
In addition to performing public concerts and exchanging with other schools, the tour is also a chance for the students to learn from musical experts in the US with workshops with Jazz at Lincoln centre and the New York Philharmonic and visits to university schools of music in Boston and New York. We will also be taking the opportunity to see professional musicians perform, attending an Opera at the Metropolitan Opera, shows on Broadway, Symphony Concerts in Carnegie Hall, a myriad of jazz gigs and soaking up all the musical sights and sounds on offer in such dynamic and arts-rich cities.
We will be performing in the Central Park Bandshell, Boston Common, St. Patrick's Cathedral, The Cathedral of St. John Devine, aboard the USS Intrepid and many other locations throughout NY and Boston.
The music tour is an invaluable opportunity for students to work towards the goal of representing not only our school but New Zealand internationally. Students develop to a much higher level of musicality than they ever would normally. With three weeks of focused music making and education, students make huge gains as musicians. They also learn life skills, leadership skills, self-management skills and make connections with other students and musicians for life.
Our Music Tour is the single most important event that our music department organises. It has the greatest impact on student development, education and teamwork with our music students.
These funds will be used for specific students, struggling to raise the funds for the tour. Any excess will go towards all students and will allow us to an additional concert, workshop etc. to our itinerary.
https://givealittle.co.nz/cause/cashmere-high-new-york-music-tour-2018#
2018 September
The steel has been constructed for the new Science Block and the concrete has been poured for both the ground and level one floors.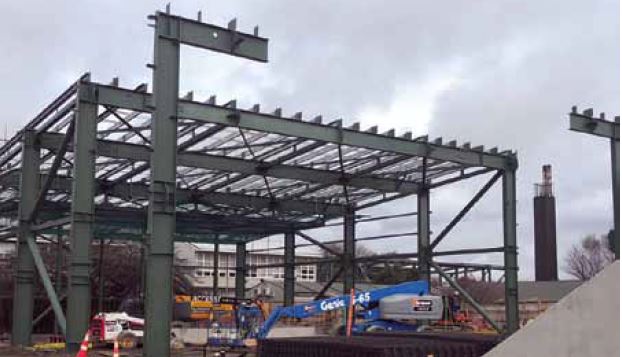 Work continues on the foundations Of the Performing Arts Centre (PAC Or school hall) and the steel framing has started going up. The new PAC will be completed by the end of Term 2 2019.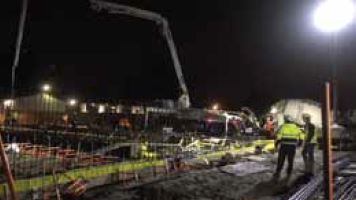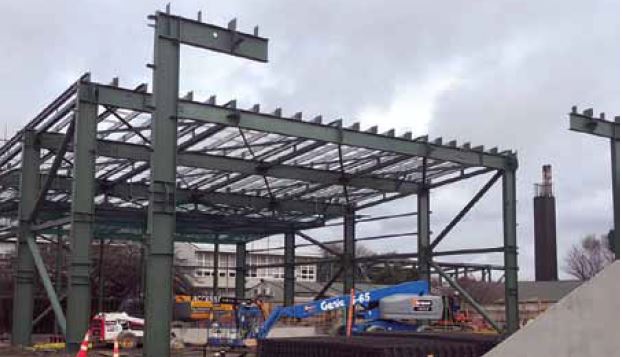 Work on our drainage around the school has continued. A rain garden is being constructed to help manage the drainage into the city system.
2018 September
It has been an extraordinary privilege to have spent the last term away travelling, visiting schools in Britain and Europe and studying at the Graduate School of Education, at Harvard University in Boston. This amazing opportunity was thanks to being awarded the Woolf Fisher Trust Fellowship. My thanks to our Board of Trustees for supporting my time away, Carla Smith for assuming the Acting Principal role and my Senior Leadership Team (SLT) for taking up some additional duties during my absence. What a great team am blessed to work with.
It has been truly wonderful to have the time to visit and Observe other schools across different countries, talk with other educationalists and study and reflect. So what did learn over this time away? Firstly, that despite different systems, schools across the western world are remarkably similar, and are grappling with many of the same issues as we do here in New Zealand. Nearly every public education system across the world is in the process Of some form Of reform to try and meet the challenge of how to best educate people for the modern and digital world.
The schools I visited could easily be grouped into two types: firstly those undertaking radical changes based around what is commonly regarded as "21st Century Learning" (e.g. open plan environments and Project Based Learning); and secondly those schools making more moderate developments around shifting teaching practice (e.g. blending in digital technologies and having more varied learning opportunities). Those schools engaged in more radical changes were characterised by having students from lower socio-economic and often ethnically diverse areas. They were driven by a sense of urgency that "schools need to change" (i.e. not engaging students) and "students were failing (e.k. poor attendance and low academic results). The other schools making moderate changes were all based in higher socio-economic communities. These schools were perceived as popular (i.e. strong enrolments), were achieving good outcomes (e.g. attendance and academic results) and had no community desire for radical changes.
In terms of the use of digital technologies in schools, my observations found the access and use in teaching and learning varied widely between schools and even widely within schools. This was the same regardless of the school's socio-economic type, and regardless of the dominant teaching instruction (e.g. traditional or progressive). I do believe that New Zealand schools overall have a higher level of integration. NZ school wifi coverage is typically much stronger and more accessible, and technologies used more by students in their learning. My perceptions are well supported by the recent findings of the World Economic Forum's The Global Competitiveness Report 2017-18, which ranked New Zealand schools first equal with Singapore (out of 137 countries) on the topic: "to what extent is the internet used in schools for learning purposes".
There was plenty I saw and experienced that I liked and that I did not. I also felt very affirmed by the high quality of our teachers here at Cashmere High School, the balance of our programmes, and the strong and positive culture that we have as a community.
Nga mihi nui
Mark Wilson
Principal