2018 March
There was substantial property works underway over the Christmas school holiday break, with Stage 1 works finally coming to a conclusion and the Stage 2 works getting underway. This has all been a massive project, especially working around these while trying to keep the school operating as "normal". The following are some photos of the major works…
1 Cashmere High School's old Performing Arts Centre (PAC or School Hall) just prior to demolition for the construction of the exciting new performing arts building – due to be completed by end of Term 1 2019.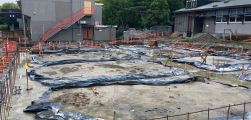 2 The foundations are down for the construction of a new Science Block with seven new labs – as an extension to our two-story A Block. This new Science Block should be ready for student use after Term 3 this year.
3 Prefab classrooms have been relocated to behind W and K Blocks, and will now be the new K6 and K7 classrooms and ESOL office. Two other prefab classrooms have been uplifted and relocated to the front field (now called M6 and M7 classrooms).
4 There have been a large number of underground pipes dug up and replaced around the school. This replacement of the old and damaged underground infrastructure will continue into Term 1.
2018 March
Official Opening of R-Block.
The first of the new buildings (R Block) was officially opened on Thursday 25th January, by Sir Tipene O'Regan. The highly
respected Ngai Tahu kaumatua, academic, businessman and iwi leader has had a strong and active relationship with Cashmere High
School over recent years, it was an honour to have a person of such significance and status open and bless this new
building. This occasion also marks the end of Stage 1 of our school's property rebuild programme.
This new block includes three large art classrooms and offices for Heads of School on the
ground floor, and upstairs four English classrooms and a large workspace for teachers. This
new block has an outside walkway to allow easy access to the school gym and library after
hours from the front of the school.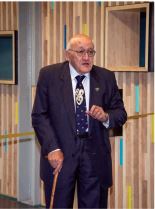 Unveiling of the new Whakairo (carvings) on the School Whare.
On the morning of Friday 9th February members of our school community gathered
to officially unveil and bless the new whakairo (mahi, amo and koruru) mounted
on the front of our school whare. These carvings were organised and lead by
master carver Matua Tairoa Flanagan (a father of past pupil Te Matau Hopu
Flanagan CHS 2016). Cashmere High is very grateful for the outstanding work and skill of
Tairoa, and how he allowed students and staff to assist in the carving process.
Thank you to Eruena Tarena of Ngai Tahu and parent at our school who led the
blessing ceremony on this special morning. Many thanks to the large number of
people who contributed to this wonderful new addition to our school.